Ok, so hello! You probably are missing me because yesterday my blog had a new addition added on! And be warned, you might be seeing more of the Blue-Whale Basketball Player- maybe even on his own blog- but not today because he's currently having fun at an after-school activity.
Anywho, let's get started because I am very happy with April as a whole, and I'm just very excited to see what I have to say about it.
GOALS
GUESS WHAT!!! I've finally done it. I've finally managed to become more of a civilized person and be organized! I have to say, it's been such a hassle and so hard but I'm happy for myself that I've managed to be able to complete this goal on my list.
I was slightly worried that this one would always be on my list because it's been hard to accomplish, but now that I've done it I'm so sure that I can complete the rest.
Try not to stress over little things.
For this one, I'm halfway. I've figured out a method that's been very helpful, yet doesn't add to the "stress".
So honestly, it's been so great to relieve some of it off my mind, even if it's not all. I just simply hated bearing all that negativity on my back and I'm so glad to take some of the loads off!
MONTHLY POSTS
Not all people have the time to be able to blog for even three days a week. Most bloggers I know blog at least once a week, and then that's it. So I feel so happy to know that for the time being, I am able to blog three times a week. Don't feel bad if you don't blog a lot because it doesn't matter- the content and quality matters. So with that being said…
Discussion: Should High Schools offer more career related elective classes for students [such as fashion designing for me]?
Fashion Frenzy: Hey, How Do I Practice Fashion Designing anyways?
Bookish Book Times Discussion: [Blog-Wise] Is it Okay to Not Post?
What I've Learned From 9 Months of Blogging
Bookish Book Times: [Travel Themed] What Would I Pack if I could Only Pack BOOKS?
Dino Talks: How to Prepare Yourself for the Chaos called Travel
Fashion Frenzy: I Think We Are Ready To.. Start Our Portfolios.
Bookish Book Times: Five Easy Steps to a Healthy Blogstyle
What Type of Blogger are You??
Fashion Frenzy: Creating Your Path in the Fashion World- Part One
Eleven posts- I'm okay with that! I've done a good number of posts, and all have been great in their quality.
BLOG UPDATES
Can you believe it!
So recently I got a notification on WordPress- and by now, I think you know what it is because it's a notification! Anyways when I saw this notification, I actually literally internally screamed.
So if you don't know, I got a notification saying that I have received 100 FOLLOWERS!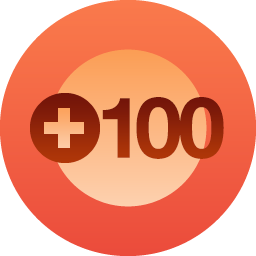 That's literally the most amazing thing ever, and even if it's just a number. It's just so crazy to know that about a year ago I was starting this blog with no intentions whatsoever- I was just starting it because I was bored and wanted something to do over the summer.
And it became something so amazing and so fun for me to do. To just sit down and write for you all, and the fact that 100 people appreciate it so much to actually click that follow button makes it feel even more surreal.
So I'd just like to say thank you, and to tell you that nothing on this blog will change because of the number of people reading it. That just means I have a larger audience, but not that I have to change anything.
Until next time..
Miss Dino, The Dinosaur Enthusiast.